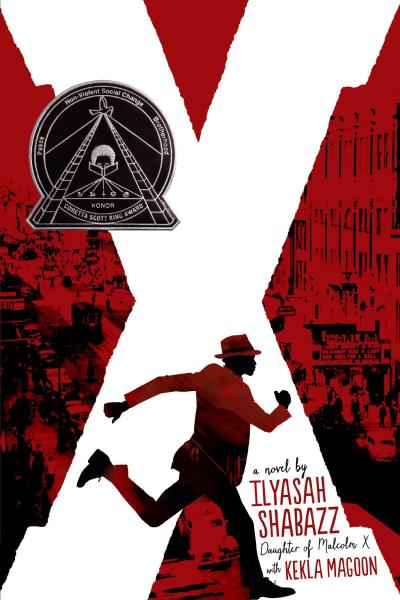 X, a Novel by Ilyasah Shabazz
Publisher information:  Somerville, MA: Candlewick Press (2015)
Summary:  Co-written by Malcom X's daughter, this riveting and revealing novel follows the formative years of the man whose words and actions shook the word.
Malcolm Little's parents have always told him that he can achieve anything, but from what he can tell, that's a pack of lies---after all, his father's been murdered, his mother's been taken away, and his dream sof becoming a lawyer have gotten him laughed out of school.  There's no point in trying, he figures, and lured by the nightlife of Boston and New York, he escapes into a world of fancy suits, jazz, girls, and reefer.  But Malcolm's efforts to leave the past behind lead him  into increasingly dangerous territory.  Deep down, he knows that the freedom he's found is only an illusion---and that he can't run forever.
X follows Malcolm from his childhood to his imprisonmentfro theft at age twenty, when he found the faith that would lead him to forge a new path and command a voice that still resonates today.
Book Review:
Read-a-Likes:
The Boy in the Black Suit by Jason Reynolds
All American Boys by Jason Reynolds
How It Went Down by Kekla Magoon
Out of Darkness by Ashley Hope Perez
No Crystal Stair: a Documentary Novel of the Life and Work of Lewis Micheaux, a Harlem Bookseller by Vaunda Micheaux Nelson
Links of Interest:
Author website:  ilyasahshabazz.com
Educator guide:  HERE
Malcolm X:  HERE
The Ocean State Libraries catalog listing contains a book profile, professional reviews, reader reveiws, reading level, subject headings, and awards.  Scroll down to view all the content on the page. 
Classic catalog version and Encore catalog version