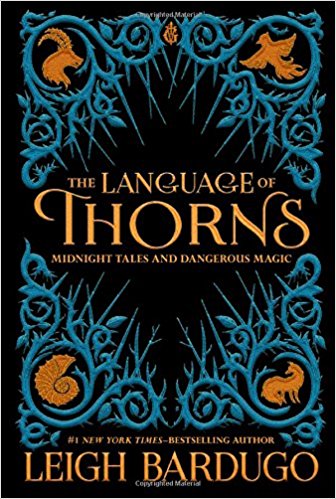 The Language of Thorns: Midnight Tales and Dangerous Magic by Leigh Bardugo
Publication Information:  New York, NY: Imprint, 2017
Summary:  Inspired by myth, fairy tales, and folklore, #1 New York Times Bestselling author Leigh Bardugo has crafted deliciously atmospheric collection of short stories filled with betrayals, revenge, sacrifice, and love.
Enter Grishaverse...
Love speaks in flowers.  Thruth requires thorns.
Travel to a world of dark bargains struck by moonlight, of haunted towns and hungry woods, of talking beasts and gingerbread golems, where a young mermaid's voice can summon deadly storms adn where a river might do a lovestruck boy's bidding but only for a terrible price. 
Perfect for new readers and dedicated fans, the tales of Language of Thorns will transport you to lands both familiar and strange - to a fully realized world of dangerous magic that millions have visited through the novels of the Grishaverse.
This collection of six stories includes three brand-new tales, each of them lavishly illustrated and culminating in stunning full-spread illustrations as rich in detail as teh stories themselves.
Book Review:
Read-a-Likes:
This Savage Song by V.E. Schwab
Daughter of Shadow and Bone by Lanini Taylor
Flame in the Mist by Renee Ahdieh
M is for Magic by Neil Gaimen
Magic for Beginners by Kelly Link
Forest of a Thousand Lanterns by Julie Dao
Court of Thorns and Roses by Sarah Maas

Links of Interest:
Author Website - leighbardugo.com
Educator's Guide - HERE
Illustrator Website - sarakipin.com
The Ocean State Libraries catalog listing contains a book profile, professional reviews, reader reveiws, reading level, subject headings, and awards.  Scroll down to view all the content on the page. 
Classic catalog version and Encore catalog version