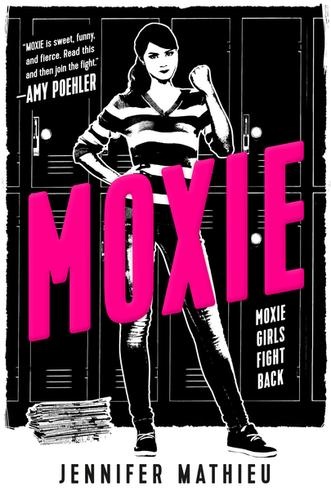 Moxie by Jennifer Mathieu
Publisher Information:  New York, NY:  Roaring Brook Press, 2017
Summary:  Viv Carter creates the first issue of MOXIE, her feminist zine, because she's had it with boys who have no hesitation about demeaning, touching, verballing tormenting, or sexually harrassing the girls in her small-town high school.  She distributes the first issue anonymously, and no one suspects that always-follows-the-rules Viv could be behind it. 
At first, only a few girls show their solidarity by drawing stars and hearts on their hands, but as Viv secretly distributes more issues around school, more girls join in.  They wear bathrobes to school to protest an unfairly applied dress code and slap "You're an A--hole" stickers on the cars, lockers, and backpacks of boys who've harassed girls. 
In the midst of all this, Viv begins a first romance with Seth, who supports the Moxie Girl movement (but not always strongly enough for Viv).  But the more empowered the girls become, the more school administrators become determined to stop them.  Then a girl comes forward to accuse the principal of refusing to listen when she told him sh'd been raped by a football player, the Moxie Girls decide it's time to risk it all by staging a walkout.
Book Trailer:
Read-a-Likes:
Whatcha Mean, What's a Zine?  The Art of Making Zines and Mini Comics by Mark Todd & Esther Pearl Watson
Burn Baby Burn by Meg Medina
Gabi, a Girl in Pieces by Isabel Quintero
Exit, Pursued By a Bear by E.K. Johnston
The Female of the Species by Mindy McGinnis
The Nowhere Girls by Amy Reed
What We Saw by Aaron Hartlzer
Links of Interest:
Author website:  jennifermathieu.com
Educator's Guide:  HERE
Scarleteen:  scarleteen.com
Rookie:  rookie.com
The Representation Project:  therepresentationporject.com
The Ocean State Libraries catalog listing contains a book profile, professional reviews, reader reviews, reading level, subject headings, and awards.  Scroll down to view all the content on the page. 
Classic catalog version and Encore catalog version