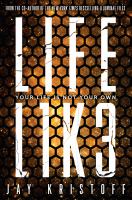 LifeL1k3 by Jay Kristoff

Publisher Information:  New York, NY: Knopf Books for Young Readers (2018)
Summary:  On a floating junkyard beneath a radiation sky, a deadly secret lies buried in the scrap.  Eve isn't looking for secrets---she's too busy looking over her shoulder.  The robot gladiator she's just spent six months building has been reduced to a smoking wreck, and the only thing keeping her Grandpa from the grave was the fistful of credits she just lost to the bookies.  To top it off, she's discovered that she can destroy electronics with the power of her mind, and the puritanical Brotherhood are building a coffin her size.  If she's ever had a worse day, Eve can't remember it.  
But when Eve discovers the ruins of an android boy named Ezekeil in the scrap pile she calls home, her enitre world comes crashing down.  With her best friend Lemon Fresh and her robotic conscience, Cricket, in tow, she and Ezekeil will trek across deserts of irradiated glass, infiltrate towering megacities and scour the graveyard of humanity's greatest folly to save the ones Eve loves, and learn the dark secrets of her past.
Ever if those secrets were better off staying buried.
Book Talk:
Read-a-Likes:
Killer of Enemies by James Bruchac
Ship Breaker by Paolo Bacigaluci
Wolf By Wolf by Ryan Graudin
Steeplejack by AJ Hartley
The Forgetting by Sharon Cameron
Defy the Stars by Claudia Gray
Rebel Seoul by Axie Oh
The Last 8 by Laura Pohl
Hullmetal Girls by Emily Skrutskie
Links of Interest:
Author website:  jaykristoff.com
Educator's guide:  HERE
The Ocean State Libraries catalog listing contains a book profile, professional reviews, reader reveiws, reading level, subject headings, and awards.  Scroll down to view all the content on the page.
Classic catalog version and Encore catalog version