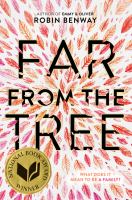 Far From the Tree by Robin Benway

Publisher Information:  New York, NY:  Harper Teen, an imprint Harper Collins Publisher, 2017
Summary: A contempory novel about three adopted siblings who find each other at just the right moment. 
Being the middle child has it's up and down.  But for Grace, an only child who was adopted at birth, discovering that she is the middle child is a different ride altogether.  After putting up her own baby up dor adoption, she goes looking for her biological family, including...
Maya, her loudmouth younger bio sister, who has a lot to say about their newfound family ties.  Having grown up the snarky brunette in a house full of redheads, she's quick to search for traces of herself among these not-quite-strangers.  And when her adopted family's long-buried problems begin to explode to the surface, Maya can't help but wonder where exactly it is that she belongs.
And Joaquin, tehir stolic older bio brother, who has no interest in bonding over their shared biological mother.  After seventeen years in the foster care system, he's learned that there are no heroes, and secrets and fears are best kept close to the vest, where they can't hurt anyone but him. 
Book Talk:
Read-a-Likes:
Three Black Swans by Caroline B. Cooney
The Infinite Pieces of Us by Rebekah Crane
The Summer of Broken Things by Margaret Peterson Haddix
How to Save a Life by Sara Zarr

Links of Interest:
Author website:  robinbenway.com
Author interview:  HERE
Author fun facts:  HERE
The Ocean State Libraries catalog listing contains a book profile, professional reviews, reader reveiws, reading level, subject headings, and awards.  Scroll down to view all the content on the page.
Classic catalog version and Encore catalog version