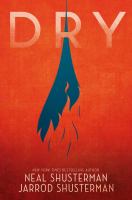 Dry by Neal Shusterman and Jarrod Shusterman

Publisher Information:  New York, NY:  Simon & Shuster BFYR (2018)
Summary:  When the California drought escalates to catastrophic proportions, one teen is forced to make life and death decisions for her family in this harrowing story of survival!
The drought, or Tap-Out, as everyone calls it, has been going on for a while.  Everyone's lives have become and endless list of don'ts: don't water the lawn, don't take long showers. Until the taps run dry!
Suddenly, Alyssa's quiet suburban street spirals into a warzone of desperation; neighbors and families turning against one another in the hunt for water.  When her parents don't return home, and she and her brother are threatened, Alyssa has to make impossible choices if they're going to survive.  
Book Review:
Read-a-Likes:
Hunger Games by Suzanne Collins

Divergent by Veronica Roth

Legend by Marie Lu

Blood Red Road by Moira Young

The Last Book in the Universe by Rodman Philbrick

Breathe by Sarah Crossan
Life As We Knew It by Susan Beth Pfeffer
Links of Interest:
Author website:  storyman.com
Educator's guide:  HERE
Drought in California:  HERE
The Ocean State Libraries catalog listing contains a book profile, professional reviews, reader reveiws, reading level, subject headings, and awards.  Scroll down to view all the content on the page.
Classic catalog version and Encore catalog version