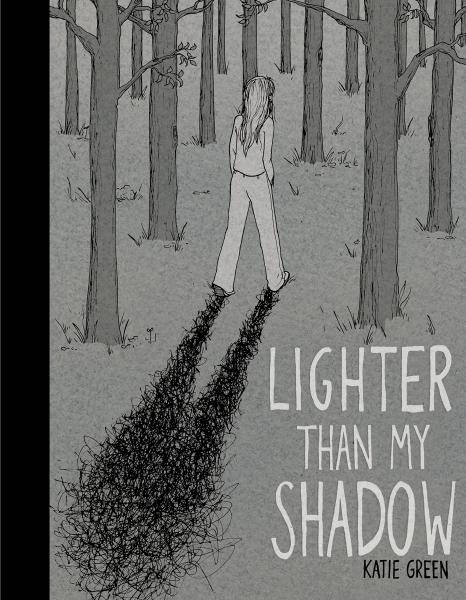 Lighter Than My Shadow by Katie Green
Publisher Information:  St. Louis, MO: The Lion Forge, 2017
Summary:  A graphic memoir of eating disorders, abuse, and recovery. 
Like most kids, Katie was a picky eater.  She'd sit at the table in silent protest, hide uneaten toast in her bedroom, listen to parental threats that she'd have to eat it for breaksfast. 
But in any life a set of circumstance can collide, and normal behavior might soon shade into something sinsiter, somsthing deadly.  One day you can find yourself being told you have two weeks to live. 
Lighter Than My Shadow is a hand-drawn story of struggle and recovery, a trip into the black heart of a taboo illness, an exposure to those who are weak as to prey on the weak, and an inspiration to anybody who believes in the human power to endure towards happiness.
Book Trailer:
Read-a-Likes:
FICTION
The Perks of Being a Wallflower by Stephen Chbosky
Exit, Pursued By a Bear by E.K. Johnston
Just Listen by Sarah Dessen
Pointe by Brandy Colbert
The Impossible Light by Lily Myers
Speak by Laurie Halse Anderson
What We Saw by Aaron Hartzler
NONFICTION
Why She Feels Fat:  understanding your loved one's eating disorder and how you can help by  Johanna Marie McShane
Helping a Friend With an Eating Disorder by Sabrina Parys
Body Outlaws:  young women write about body image and identity edited by Ophira Edut
Sexual Assault: the ultimate teen guide by Olivia Ghafoerkhan
Rape and Sexual Assault: healing and recovery by Rebecca T. Klein
The Sexual Trauma Workbook for Teen Girls: a guide to recovery from sexaul assault & abuse by Raychelle Cassada Lohmann
Links of Interest:
Author website:  katiegreen.co.uk
National Eating Disorders:  nationaleatingdisorders.org
Rape, Abuse & Incest National Network:  rainn.org
Eating Disorder Hope:  eatingdisorderhope.com
The National Association of Anorexia Nervosa and Associated Disorders:  anad.org
National Sexual Violence Resource Center:  nsvrc.org
The Ocean State Libraries catalog listing contains a book profile, professional reviews, reader reveiws, reading level, subject headings, and awards.  Scroll down to view all the content on the page. 
Classic catalog version and Encore catalog version