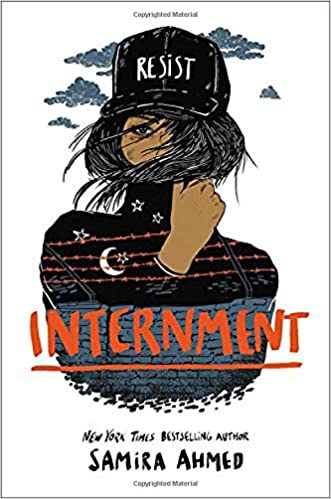 Internment by Samira Ahmed

Publisher Information:  New York, NY:  Little, Brown and Company, 2019
Summary:  Set in a horrifying near-fututre United States, seventeen-year-old Layla Admin and her parents are forced into an internment camp for Muslim American citizens.
With the help of newly made friends also trapped within the internment camp, her boyfriend on the outside, and an unexpected alliance, Layla begins a journey to fight for freedom, leading a revolution against the camp's Director and his guards. 
Heart-racing and emotional, Internment challenges readers to fight complicit silence that exists in our society today. 
Book Trailer: 
Read-a-Likes:
On the Come Up by Angie Thomas
A Very Large Expance of Sea by Tehereh Mafi
They Called Us Enemy by George Takei
Divergent by Veronica Roth
We Set the Dark on fire by Tehlor Kay Mejia
The Light at the Bottom of the World by London Shah

Links of Interest:
Author website:  samiraahmed.com
Educataor's guide:  HERE
The Ocean State Libraries catalog listing contains a book profile, professional reviews, reader reveiws, reading level, subject headings, and awards.  Scroll down to view all the content on the page.
Classic catalog version and Encore catalog version