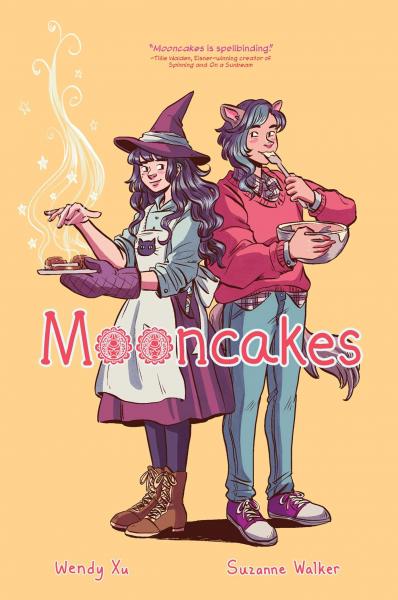 Mooncakes by Suzanne Walker (art by Wendy Wu)

Publication Information:  St, Louis, MO:  Lion Forge LLC, 2019
Summary:  Nova Huang knows more about magic than your average teenage witch.  She works at her grandmothers' bookshop, where she helps them loan out spell books and investigate any supernatural occurences in their New England town.
One fateful night, she follows reports of a white wolf in the woods, and she comes across the unexpected:  her childhood crush, Tam Lang, battling a horse demon in the woods.  As  a werewolf, Tam has been wandering from place to place for years, unable to call any town home. 
Pursued by dark forces eager to claim the magic of wolves and out of options, Tam turns to Nova for help.  Their latent feelings are rekindled against a backdrop of witchcraft, untested magic, occult rituals, and family ties both new and old in this enchanting tale of self-discovery. 
Book Trailer:
Read-a-Likes:
Pumpkinheads by Rainbow Rowell and illustrated by Faith Hicks
Bloom by Kevin Panetta and illustraded by Savanna Ganucheau
The Magic Fish by Trung Le Nguyen
Witchlight by Jessi Zabarsky
Kiki's Delivery Service by Hayao Miyazaki
Sabrina the Teenage Witch by Kelly Thompson and illustrated by Veronica Fish and Andy Fish
Links of Interest:
Author website:  suzannewakeenwalker.com
Artist website:  artofwendyxwu.com
Educator's guide:  HERE
Mid-Autumn Festival:  HERE
The Ocean State Libraries catalog listing contains a book profile, professional reviews, reader reveiws, reading level, subject headings, and awards.  Scroll down to view all the content on the page.
Classic catalog version and Encore catalog version