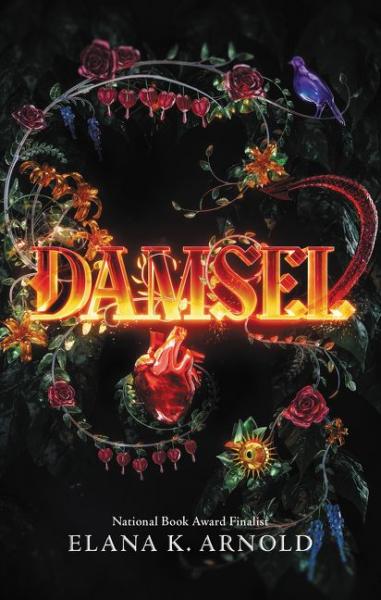 Damsel by Elana K. Arnold

Publication Information:  New York, NY: Balzer & Bray, 2018
Summary:  The rite has existed for as long as anyone can remember: when the prince who will be king comes of age, he must venture out into the gray lands, slay a fierce dragon, and rescue a damsel to be his bride.  This is the way things have always been done.
When Ama wakes in the arms of Prince Emory, she knows none of this.  She has not memory of what came before she was captured by the dragon or what horrors she faced in its lair.  She knows only this handsome prince, the story he tells of her rescue, and her destiny of sitting on a throne beside him.  It's all like a dream, like something from a fairy tale.
As Ama follows Emory to the kingdom of Harding, however, she discovers that not all is as it seems.  There is more to the legends of the dragons and the damsels than anyone knows -- and the greatest threats are not behind her, but around her, closing in. 
Book Trailer:
Read-a-Likes:
Bianca and Roja by Ana Marie McLemore
The Bird and the Blade by Megan Bannen
For a Muse of Fire by Heidi Heilig
Forest of a Thousand Acres by Julie C. Dao
Girls of Paper and Fire by Natasha Ngan
The Language of Thorns by Leigh Bardugo
Seafire by Natalie C. Parker
Sea Witch by Sarah Henning
A Shadow Bright and Burning by Jessica Cluess
The Surface Breaks: a Reimagining of hte Little Mermaid by Louise O'Neall
Links of Interest:
Author Website - elenakarnold.com
Educator's guide:  HERE  
Writng girls and rethinking fairytails - HERE
The Ocean State Libraries catalog listing contains a book profile, professional reviews, reader reveiws, reading level, subject headings, and awards.  Scroll down to view all the content on the page. 
Classic catalog version and Encore catlaog version