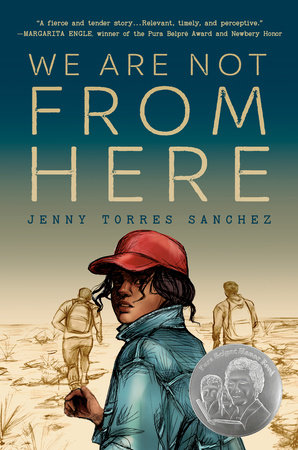 We Are Not From Here by Jenny Torres Sanchez

Publication Information:  New York, NY: Philomel Books, 2020
Summary:  A ripped-from-the-headlines novel of desperation, escape, and survival across the U.S./Mexico border.
Pulga, Chico, and Pequena have no false illusions about the town they've grown up in and the dangers that surround them.  Though their families--both biological and found--create a warm community for them, threats lurk around every corner.  And when those threats become all too real, the three teens know they have no choice but to run: for the border, for the hope of freedom, and for their very lives.
Crossing from Guatemala to Mexico with their eyes on the U.S. border, they follow the route of La Bestia, a system of trains that promise the hope of freedom--if they are lucky enough to survive the harrowing journey.  With nothing but the bags on their backs and the desperation that courses through their very veins, Pulga, Chico, and Pequena know that there's no turning back, dangerous though the road ahead may be.
In this story inspired by real--and current--events, the plight at our southern border is brought to life.
Book Trailer:
Read-a-Likes:
Beast Rider by Tony Johnston
We Are Here to Stay by Susan Kuklin
Santuary by Paola Mendoza
Enrique's Journey by Sonia Narazio
The Sun is Also a Star by Nicola Yoon
American Street by Ibi Zoboi
Links of Interest:
Author website:  jennytorressanchez.com
Author interview:  HERE
The Ocean State Libraries catalog listing contains a book profile, professional reviews, reader reveiws, reading level, subject headings, and awards.  Scroll down to view all the content on the page.
Classic catalog version and Encore catalog version