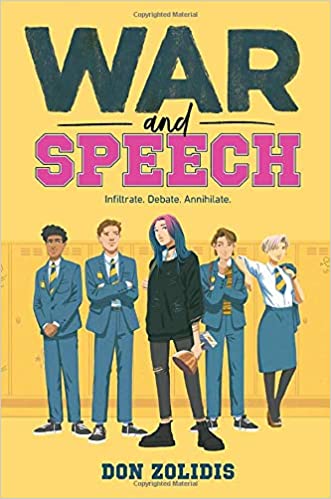 War and Speech by Don Zolidis

Publication Information:  New York, NY: Hyperion, 2020
Summary:  A girl plots the takedown of the toxic Speech and Debate team that rules her school.
When Sydney starts Eaganville School for the Arts, she immediately runs afoul of the powerful Speech and Debate kids due to her mouthy nature.  She's adopted by other misfits with Speech grudges -- athletic Lakshmi; former Speech star Elijah; and gay theater aficionado Thomas. 
Sydney decides to avenge her friends by joining Speech and Debate and destroying it from the inside.   To do this, she must become good enough to stay on the varsity team all the way to the Nationals.  The dissent Sydney and her friends sow within the team involves inflaming rivalries, toying with hormones, and various other dirty tricks -- luckily, the varsity team members are so odious that their punishments remain hilarious.  The true villain is the win-at-all-costs abusive coach. 
This song reminds the author of Sydney:  "I think Courtney (Barnett) really gets at Sydney's irascible, raw voice. Her song "Help Your Self" is a great encapsulation of Sydney's personal philosophy." ---Don Zolidis

Read-a-Likes:
The Seven Torments of Amy and Craig by Don Zolidis
She's the Worst by Lauren Spieller
Lucky Caller by Emma Mills
How to Speak Boy by Tianna Smith
Meet Me at Midnight by Jessica Pennington
Links of Interest:
Author website:  donzolidis.com
Author interview:  HERE
Another author interview:  HERE
A play by Don Zolidis that was done by students in quarantine:  HERE
How to start a debate team:  HERE
The Ocean State Libraries catalog listing contains a book profile, professional reviews, reader reveiws, reading level, subject headings, and awards.  Scroll down to view all the content on the page.
Classic catalog version and Encore catalog version