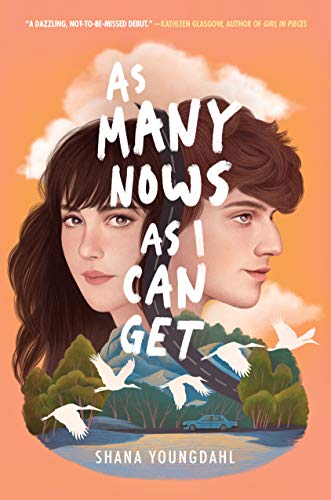 As Many Nows As I Can Get by Shana Youngdahl

Publisher Information:  New York, NY:  Dial Books, 2019
Summary:  In one impusive moment the summer before they leave for college, overachievers Scarlett and David plunge into a brief and irresistible swirl of romance, partical physics, and questionable decisions. 
Scarlett and David have known each other all their lives in small-town Graceville, Colorado, where David is just another moutain in the background, until, one day, he is suddenly so much more than part of the landscape.  Magnetic, spontaneous, David is a gravitational force.  And Scarlett, pragmatic, wry, eye on the future, welcomes the pull he has on her even as she resists it.
Moving between the present and the past, this is the story of a seemingly grounded girl who's pulled into a lightning-strike romance with an electric-charged boy, and the enormity of the aftermath.  Smart, bold, and emotionally deep, Shana Youngdahl's debut explores grief, guilt, and reconciling who you think you need to be with the person you've been all along.  It's an aching, transporting reminder that between the past that shapes us and the unknowable future, we have only the present to forgive ourselvesand forge ahead.
Read-a-Likes:
We Are Okay by Nina LaCour
All the BRight Places by Jennifer Niven
Exit, Pursued by a Bear by E.K. Johnston
Let's Call It a Doomsday by Katie Henry
Sorry For Your Loss by Jessie Ann Foley

Links of Interest:
Author website:  shanayoungdahl.com
Planned Parenthood:  HERE
Substance Abuse and Mental Health Services Administrations:  HERE
The Ocean State Libraries catalog listing contains a book profile, professional reviews, reader reveiws, reading level, subject headings, and awards.  Scroll down to view all the content on the page.
Classic catalog version and Encore catalog version