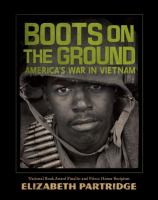 Boots on the Ground: America's War in Vietnam by Elizabeth Partridge

Publisher Information:  New York, NY:  Vicking, published by Penquin Group (2018)
Summary:  In over a decade of bitter fighting, it claimed the lives of more than 58,000 American soldiers and beleaguered four U.S. Presidents.  More than forty years after America left Vietnam in defeat in 1975, the war remains controversial and divisive both in the United States and abroad.
The history of this era is complex; the cultural impact extrordinary.  But it's the personal stories of eight people---six American soldiers, one American military nurse, an done Vietnamese refugee---that create the heartbeat of Boots on the Ground.  From dense jungles and terrifying firefights to chaotic helicopter rescues and harrowing escapes, each individual experience reveals a different facet of the war and moves us forward in time.  Alternating with these chapters are profiles of key American  leaders and events, reminding us all that was happening at home during the war, including peace protests, presidential scandals, and veterans' struggles to acclimate to life after Vietnam.
With more than one hundred photographs, award-winning author Elizabeth Partridge's unflinching book captures the intensity, frustration, and lasting impacts of on eof the most tumultous periods of American History.
Book Talk:
Read-a-Likes:
Maya Lin:  thinking with her hands by Susan Goldman Rubin
Captured:  an American prisoner of war in North Vietnam by Alvin Townley
10,000 Days of Thunder: a history of the Vietnam War by Adam Silvera
Stop This War! :  American protest of the conflict in Vietnam by Margot Fortunato Galt
The Things They Carried  by Tim O'Brien
Dogs of War by Sheila Keenan 
Links of Interest:
Author website:  elizabethpatridge.com
Educator's guide:  HERE
Vietnam Memorial:  HERE
The Ocean State Libraries catalog listing contains a book profile, professional reviews, reader reveiws, reading level, subject headings, and awards.  Scroll down to view all the content on the page.
Classic catalog version and Encore catalog version