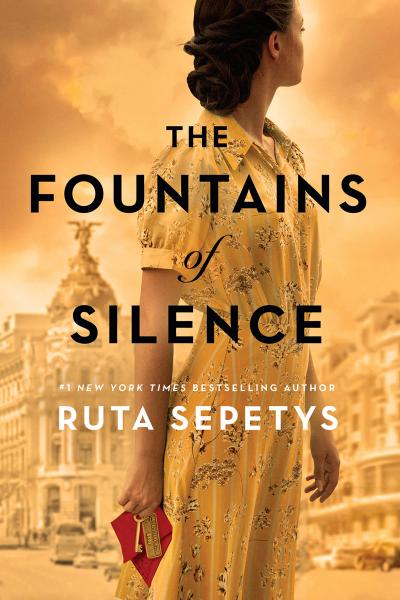 The Fountains of Silence by Ruta Sepetys

Publication Information:  New York, NY: Philomel Books, 2019

Summary:  Madrid, 1957.  Under the fascist dictartorship of General Francisco Franco, Spain is hiding a dark secret. Meanwhile, tourists and foreign businessmen flood into Spain under the welcoming promise of sunshine and wine.  Among them is nineteen-year-old Daniel Matheson, the son of an oil tycoon, who arrives in Madrid with his parents hoping to connect with the country of his mother's birth through the lens of his camera. 
Photography - and fate - intoduce him to Ana, who's family's interweaving obstacles reveal the lingering grasp of the Spanish Civil War - as well as chilling definitions of fortune and fear.  Daniel's photographs leave him with uncomfortable questions amidst shadows of danger.  He is backed into a corner of difficult decisions to protect those he loves. 
Lives and hearts collide, revealing an incredibily dark side to the sunny Spanish city. 
Book Trailer:
Read-a-Likes:
The Book Thief  by Marcus Zusak
Eyes of the World: Robert Capa, Gerda Taro, and the Invention of Modern Photography by Marc Aaronson
Lovely War by Julie Berry
Pan's Labyrinth: The Labyrinth of the Faun by Guillermo del Toro
Shame the Stars by Guadalupe Garcia McCall
The War Outside by Monica Hesse
Links of Interest:
Author website:  rutasepetys.com
Educator's guide:  HERE
Author interview:  HERE
Another author interview:  HERE
Documentary about Spain under Franco:  HERE
The Ocean State Libraries catalog listing contains a book profile, professional reviews, reader reveiws, reading level, subject headings, and awards.  Scroll down to view all the content on the page.
Classic catalog version and Encore catalog version