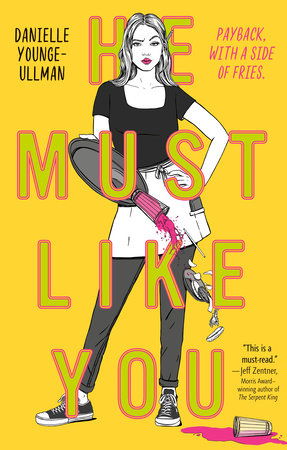 He Must Like You by Danielle Younge-Ullman

Publication Information:  New York, NY: Viking Books for Young Readers, 2020 

Summary:  Libby is having a rough senior year.  Her older brother absconded with his college money and is bartending on a Greek island.  Her dad just told her she's got to pay for college herself, and he's evicting her when she graduates so he can Airnb her room.  A drunken hook-up with her co-worker Kyle has left her upset and confused. 
So when Perry Ackerman, serial harasser and the most handsy customer at The Goat where she waitresses, pushes her over the edge, she can hardly be blamed for dumping a pitcher of sangria on his head.  Unfortunately, Perry is a local industry hero, the restaurant's most important customer, and Libby's mom's boss. 
Now Libby has to navigate the fallout of her outburst, find an apartment, and deal with her increasing rage at the guys who've screwed up her life--and her increasing crush on the only guy who truly gets her.
As timely as it is timeless, He Must Like You is a story about consent, rage, and revenge, and the potential we all have to be better people. 
Book Trailer:
Read-a-Likes:
Grown by Tiffany D. Jackson
Girl, Unframed by Deb Caletti
Know My Name by Chanel Miller
You Know I'm No Good by Jessie Ann Foley
Gabi, a Girl in Pieces by Isabel Quintero
Links of Interest:
Author website:  danielleyoungeullman.com
Educator's guide:  HERE
Author interview:  HERE
The Ocean State Libraries catalog listing contains a book profile, professional reviews, reader reveiws, reading level, subject headings, and awards.  Scroll down to view all the content on the page.
Classic catalog version and Encore catalog version