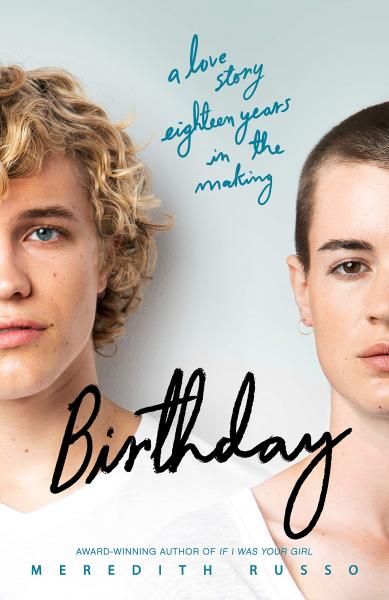 Birthday by Meredith Russo
Publisher Information:  New York, NY:  Flatiron Books, 2019
Summary:  There was the day they were born, and there was the minute Morgan and Eric decided they were best friends for life.  The years where they stuck by each other's side---as Morgan's mom died, as they moved across town, as Eric joined the football team, as his parents started fighting.  But sometimes he worries that Morgan won't be his best friend forever.  That there'll be a day, a minute, a second, where it all falls apart and there's no turning back the clock. 
Morgan knows that every birthday should feel like a new beginning, but she's trapped in a mixed-up body, in the wrong life, in Nowheresville, TN, on repeat.  With a dad who cares about his football team more than her, a mom she misses more than anything, and a best friend who can never know her biggest secret.  Maybe one day she'll be ready to become the person she is inside.  To become her.  To tell the world.  To tell Eric.  But when?
Six years of birthdays reveal Eric and Morgan's destiny as they come together, drift apart, fall in love, and discover who they're meant to be---and if they're meant to be together.  From the award-winning author of If I Was Your Girl, Meredith Russo, comes a heart-wreching and universal story of identity, first love, and fate. 
Book Review:
Read-a-Likes:
I WIsh You All the Best by Mason Deaver
Winter Town by Stephen Emond
Top Ten by Katie Cotugno
Bloom by Kevin Panetta
History Is All You Left Me by Adam Silvera
Will Grayson, Will Grayson by John Green

Links of Interest:
Author website:  meredithrusso.net
Discussion questions:  HERE
The Ocean State Libraries catalog listing contains a book profile, professional reviews, reader reveiws, reading level, subject headings, and awards.  Scroll down to view all the content on the page.
Classic catalog version and Encore catalog version