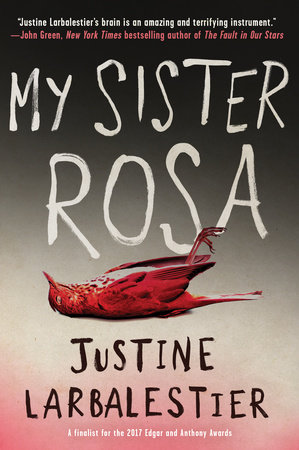 My Sister Rosa by Justine Larbalestier
Publication Information: New York, NY: Soho Teen, 2016
Summary:  What if the most terrifying person you know is your ten-year-old sister? 
Seventeen-year-old Australian Che Taylor loves his younger sister, Rosa, but he's certain that she's a psychopath - clincally, threateningly, dangerously.  Recently, Rosa has been making trouble, hurting things.  Che is the only one who knows; he's the only one his sister trusts.  Rosa is smart, talented, pretty, and very good at hiding what she is and the manipulation she's capable of.
Their parents, whose business takes the family from place to place, brush off the warning signs of Rosa's 'acting out'.  Now that they have moved again - from Bangkok to New York City - their new hometown provides far too many opportunities for Rosa to play her increasingly complex and disturbing games.  Che's always been Rosa's rock, protecting her from the world.  Now, the world might need protection from her. 
Book Trailer
Read-a-Likes:
I Hunt Killers by Barry Lyga
Allegedly by Tiffany D. Jackson
The Female of the Species by Mindy McGinnis
Burn Baby Burn by Meg Medina
Complicit by Stephanie Keenan
Here Lies Daniel Tate by Cristin Terrell
Links of Interest:
Author Website -  justinelarbalestier.com
Educator's Guide - HERE
Psychology Today - How to Spot a Psychopath
The Ocean State Libraries catalog listing contains a book profile, professional reviews, reader reviews, reading level, subject headings, and awards.  Scroll down to view all the content on the page. 
Classic catalog version and Encore catalog version