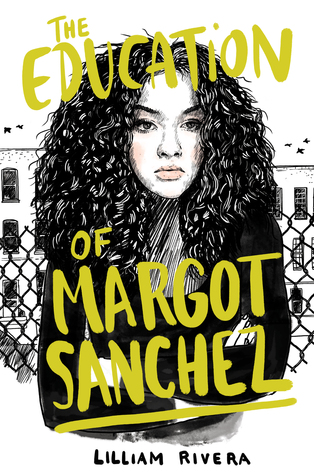 The Education of Margot Sanchez by Lilliam Rivera
Publisher Information:  New York, NY:  Simon & Shuster Books for Young Readers, 2017
Summary:  An emotional story about class, race, hard work, and finding one's place. 
After "borrowing" her father's credit card to finance a more stylist wardrobe, Margot suddenly finds herself grounded.  And by grounded, she means working as an indentured servant in her family's struggling grocery store to pay off her debts.  With each order of deli meat she slices, Margot can feel her carefully cultivated prep school reputation slipping through her fingers, and she's willing to do anything to get out of this punishment.  Lie, cheat, and maybe even steal...
Margot's invitation to to the ultimate pool party is within reach and she has no intention of letting her family's drama or Moises -- the admittedly good looking but outspoken boy from the neighborhood -- keep her from her goal.
Book Trailer:
Read-a-Likes:
I Am Not Your Perfect Mexican Daughter by Erica Sanchez
American Street by Ibi Zoboi
Piecing Me Together by Renee Watson
The Hate U Give by Angie Thomas
I Believe in a Thing Called Love by Maurene Goo
The Way You Make Me Feel by Maurene Goo
When Dimple Met Rishi by Sandhya Menon
Leah on the Offbeat by Becky Albertalli
Rani Patel in Full Effect by Sonia Patel
The Sun Is Also a Star by Nicola Yoon
Links of Interest:
Author website:  lilliamrivera.com
Author's Twitter account:  HERE
Interview with the Author:  HERE
Overview of Gentrification:  HERE
The Ocean State Libraries catalog listing contains a book profile, professional reviews, reader reveiws, reading level, subject headings, and awards.  Scroll down to view all the content on the page. 
Classic catalog version and Encore catalog version