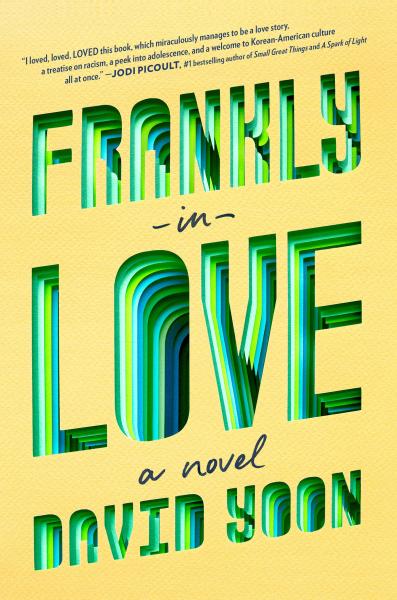 Frnakly in Love by David Yoon

Publisher Information:  New York, NY:  G.P. Putnam's Son, 2019
Summary:  Frank Li has two names.  There's Frank Li, his American name.  Then there's Sing-Min Li, his Korean name.  No one uses his Korean name, not even his parents.  Frank barely speaks any Korean.  He was born and raised in Southern California. 
Even so, his parents still expect him to end up with a nice Korean girl---which is a problem, since Frank is finally dating the girl of his dreams: Brit Means, who is funny and nerdy just like him.  Brit, who makes him laugh like no one else.  Brit. . . who is white.
As Frank falls in love for the very first time, he's forced to confirm the fact that while his parents sacrificed everything to raise him in the land of opportunity, their traditional expectations don't leave a lot of room for him to be a regular American teen.  Desperate to be with Brit without his parents finding out, Frank turns to family friend Joy Song, who is in a similar bind.  Together, they come up with a plan to help each other and keep their parents off their backs.  Frank thinks he's found the solution to all his problems, but when life throws him a curveball, he's left wondering whether he ever really knew anything about love---or himself---at all.  
Book Trailer: 
Read-a-Likes:
Yes No Maybe So by Becky Albertalli
Permanent Record by Mary H. K. Chol
Pumpkinheads by Rainbow Rowell
Tweet Cute by Emma Lord
With the Fire on High by Elizabeth Acevedo
Links of Interest:
Author website:  davidyoon.com
Educator's guide:  HERE
Author interview:  HERE
The Ocean State Libraries catalog listing contains a book profile, professional reviews, reader reveiws, reading level, subject headings, and awards.  Scroll down to view all the content on the page.
Classic catalog version and Encore catalog version