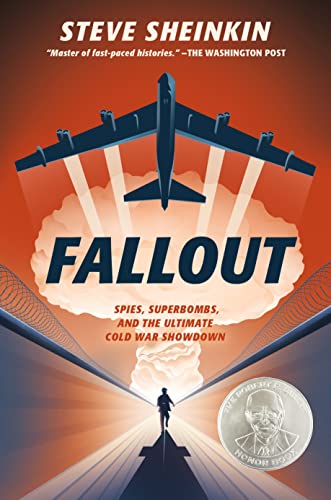 Fallout: Spies, Superbombs and the Ultimate Cold War Showdown by Steve Sheinkin
Publisher Information:  New York, NY: Roaring Brook Press 2021
Summary: 
As World War II comes to a close, the United States and the Soviet Union emerge as the two greatest world powers on extreme opposites of the political spectrum. After the United States showed its hand with the atomic bomb in Hiroshima, the Soviets refuse to be left behind. With communism sweeping the globe, the two nations begin a neck-and-neck competition to build even more destructive bombs and conquer the Space Race. In their battle for dominance, spy planes fly above, armed submarines swim deep below, and undercover agents meet in the dead of night.
The Cold War game grows more precarious as weapons are pointed towards each other, with fingers literally on the trigger. The decades-long showdown culminates in the Cuban Missile Crisis, the world's close call with the third―and final―world war.
Book Trailer:
 Read-a-Likes:
Bomb: The Race to Build--and Steal--the World's Most Dangerous Weapon by Steve Sheinkin
Blacklisted!: Hollywood, the Cold War, and the First Amendment by Larry Dane Brimner
Bridge of Spies by Giles Whittell
Walls by L.M. Eliott
Links of Interest: 
Official Author Website: http://stevesheinkin.com/
Book Review and Author Interview:https://www.shelf-awareness.com/readers-issue.html?issue=1055#m18409
Publisher's Discussion Guide: https://www.mackidsschoolandlibrary.com/discussion-guide-fallout/
Author Interview: https://youtu.be/Mh7XxvDlOLg
Author Interview: https://afuse8production.slj.com/2021/08/04/steve-sheinkin-returns-a-dee...
The Ocean State Libraries catalog listing contains a book profile, professional reviews, reader reveiws, reading level, subject headings, and awards. Scroll down to view all the content on the page. Classic catalog version and Encore catalog version