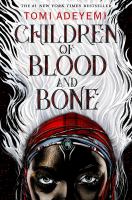 Children of Blood and Bone by Tomi Adeyemi

Publisher Information:  New York, NY:  Henry Holt and Co., 2018
Summary:  Zelie Adelbola remembers when the soil of Orisha hummed with magic.  Burners ignited flames, Tiders beckoned waves, and Zelie's Reaper mother summoned forth souls.
But everything changed the night the magic disappeared.  Under the orders of the ruthless king, maji were killed, leaving Zelie without a mother and her people without hope.
Now Zelie has one chance to bring back magic and strike against the monarchy.  With the help of a rogue princess, Zelie must outwit and outrun the crown prince, who is hell-bent on eraticating magic for good.
Danger lurks in Orisha, where snow leoponaires prowl and vengeful spirits wait in the waters.  Yet the greatest may be Zelie herself as she struggles to control her powers and her growing feelings for an enemy.

Book Talk:
Read-a-Likes:
Fire & Thorns (trilogy) by Rae Carson

The Young Elites by Marie Lu

Akata Witch by Nnedi Okorafor

The Shadow Speaker by Nnedi Okorafor
Beasts Made of Night by Tochi Onyebuchi

Links of Interest:
Author website:  tomiadeyemi.com
Educator's guide:  HERE
The Ocean State Libraries catalog listing contains a book profile, professional reviews, reader reveiws, reading level, subject headings, and awards.  Scroll down to view all the content on the page.
Classic catalog version and Encore catalog version