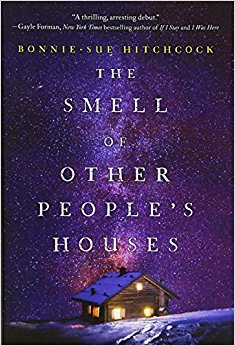 The Smell of Other People's Houses, by Bonnie-Sue Hitchcock

Publication Informationn: New York : Wendy Lamb Books, 2016
Sumary:  The Smell of Other people's Houses is a William C. Morris honor book, awarded by the American Library Association for the best young-adult debut.  It follows four Alaskan teens in 1970, a mere 11 years after the territory achieved statehood.
Ruth, 16, and her little sister Lily, 11, live with their grim, religious grandmother in a low-income neighborhood of Fiarbanks, becuase their mother had a breakdown a decade earlier when their father died in a plane crash on his way back from lobbying against the statehood.  Ruth has a secret she has no idea how to share.  Dora is an Inupiat teen with an alcoholic mother and imprisioned father.  She lives with Dumpling and Bunny's Athabascan Indian family down the street from Ruth and Lily.  Alyce, who's slightly better off, is a ballerina with divorced parents who spends her summers on her father's commercial fishing boat.  And then there's hank, who is stowing away on a boat headed for the Lower 48 with his younger brothers Sam and Jack, until Sam accidently ends upoverboard.  The narratie weaves together each of the stories so all the characters are intwined in emotional, romantic and life-changing ways. 
Book Trailer:
Read-a-Likes:
The Absolutely Ture Story of a Part-Time Indian, by Sherman Alexie

The Bingo Palace, by Lousie Erdrich

Exit, Pursued by A Bear, by E.K. Johnston

The Bean Tress, by barbara Kingsolver
Burn, Baby, Burn, by Meg Medina
Gabi, a Girl in Pieces, by Isabel Qunitero
Eleanor & Park, by Rainbow Rowell
Dante & Aristotle Discover the Secrets of the Universe, by Benjamin Alire Saenz
The Bitter Side of Sweet, by Tara Sullivan
The Serpent King, by Jeff Zentner

Links of Interest:
Author website: hitchcockbs.com
Alaska History and Cultural Studies:  akhistorycourse.org/modern-alaska/statehood
Teen Pregnancy Resouces from Medline:  medlineplus.gov/teenagepregnancy.html

The Ocean State Libraries catalog listing contains a book profile, professional reviews, reader reviews, reading level, subject headings, and awards.  Scroll down to view all the content on the page. 
Classic catalog version and Encore catalog version.