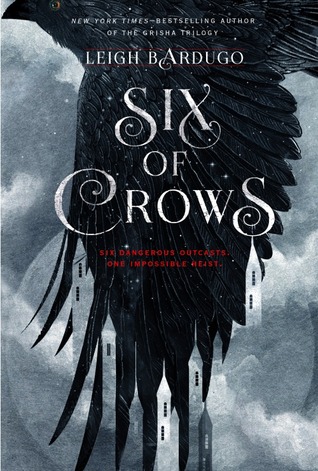 Six of Crows, by Leigh Bardugo

Publication Information: New York : Henry Holt adn Co., 2015
Summary:  Katterdam, a bustling hub of international trade where anything can be had for the right price--and no one knows that better than criminal prodigy Kaz Brekker.  Kaz if offered a chance at a deadly heist that could make him rich beyond his wildest dreams.  But he can't pull it off alone...
A convict with a thrist for revenge.
A sharpshoot who can't walk away from a wager.
A runaway with a privileged past.
A spy known as the Wraith.
A Heartrender using her magic to survive the slums.
A thief with a gift for unlikely escapes.
Six dangerous outcasts.  One impossible hesit.  Kaz's crew is the only thing that might stand betwwen the world and destruction--if they don't kill each other first.

Book Trailer:
Read-a-Likes:

Starcrossed, by Elizabeth C. Bunce
The Bone Witch, by Rin Chupeco
The Time Paradox, by Eoin Colfer
Truthwitch, by Susan Dennard
Incarceron, by Catherine Fisher
The Outcasts, by John Anthony Flanagan
Mastiff, by Tamora Pirece
Terrier, By Tamora Pirece
A Torch Against the Night, by Sabaa Tahir
Links of Interest:
Author website:  leighbardugo.com
Educator Guide:  HERE
The Ocean State Libraries catalog listing contains a book profile, professional reviews, reader reviews, reading level, subject headings, and awards.  Scroll down to view all the content on the page.
Classis catalog version and Encore catalog version
Save