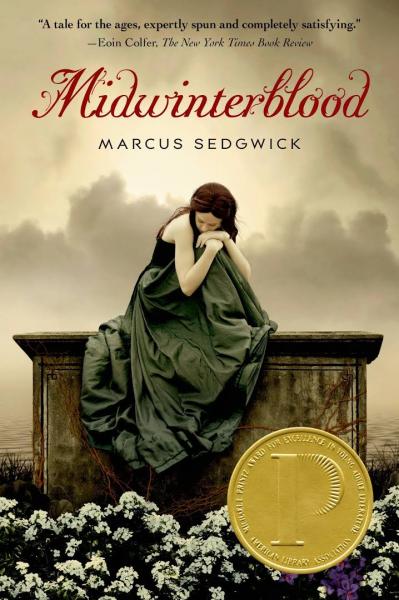 Publisher Information: New York: Roaring Book, 2013
Summary: Seven stories of passion and love separated by centuries but mysteriously intertwined--this is a tale of horror and beauty, tenderness and sacrifice. An archaeologist who unearths a mysterious artifact, an airman who finds himself far from home, a painter, a ghost, a vampire, and a Viking: the seven stories in this compelling novel all take place on the remote Scandinavian island of Blessed where a curiously powerful plant that resembles a dragon grows. What binds these stories together? What secrets lurk beneath the surface of this idyllic countryside? And what might be powerful enough to break the cycle of midwinterblood?
Book Trailer:
Read-a-likes:
Mortal Fire by Elizabeth Knox, 2013
Passenger by Alexander Bracken, 2016
The strange and beautiful sorrows of Ava Lavender by Leslye Walten, 2014
The obsidian mirror by Catherine Fisher, 2013
The brides of Rollrock Island by Margo Lanagan, 2012
A fierce and subtle poison by Samantha Mabry, 2016
City of the beasts by Isabel Allende, 2002
More Dark Fantasy:
Dorothy Must Die by Paige, D. M.
The Fall by Griffin, Bethany
Glory O'Brien's History of the Future by A.S. King
Half Bad by Sally Green
Hellhole by Gina Damico
Hollow City by Ransom Riggs
The Messengers by Edward Hogan
Portraits of Celina by Sue Whiting
Razorhurst by Justine Larbalestier
Strange and Beautiful Sorrows of Ava Lavender by Leslye Walton
Undertow by Michael Buckley
Links of Interest:
http://www.marcussedgwick.com/