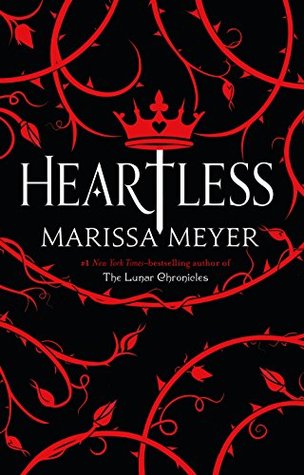 Heartless, by Marissa Meyer

Publication Information: New York : Feiwel and Friends, an imprint of Macmillan, 2016
Summary:  Long before she was the terror of Wonderland -- the infamous Queen of Hearts -- she was a girl who wanted to fall in love. 
Catherine, may be one of the most desired girls in Wonderland and a favorite of the unmarried King, but her interests lie elsewhere.  A talented baker, she wants to open a shop and create delectable pastries.  But for her mother, such a goal is unthinkable for a woman who could be a queen.  At a royal ball where Catherine is expected to receive the King's marriagae proposal, she meets handsome and mysterious Jest.  For the first time, she feels the pull of true attraction.  At the risk of offending the King and Infuriating her parents, she and Jest enter into a secret courtship.  Cath is determined to choose her own destiny.  But in a land thriving with magic, madness, and monsters, fate has other plans. 
In her first stand-alone teen novel, the New York Times-bestselling author Marissa Meyer, creator of the Lunar Chronicles, dazzles us with a prequel to Alice's Adventures in Wonderland. 

Book Trailer:
Read-a-Likes:

The Red Queen, by Victoria Aveyard
The Looking Glass, by Frank Beddor
The Graceling, by Kristin Cashore
The Body Finder, by Kimberly Derting
The Queen of Shadows, by Sarah J. Maas
Wicked: The Life and Times of Wicked Witch of the West, by Gregory Maguire
Dorothy Must Die, by D.M. Paige
Links of Interest:
Author's Website:  marissameyer.com

Educator Resource for Alice in Wonderland:  HERE
The Original:  HERE
NaNoWriMo:  This book came out of a NaNoWriMo challenge.  Check it out!  nanowrimo.org
The Ocean State Libraries catalog listing contains a book profile, professional reviews, reader reviews, reading level, subject headings, and awards.  Scroll down to view all the content on the page. 
Classic catalog version and Encore catalog version