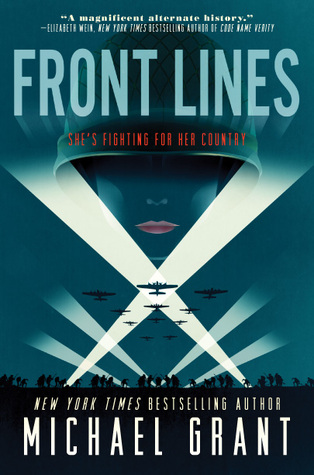 Front Lines, by Michael Grant

Publication Information: New York : Katherine Tegen Books, 2016
Summary:  World Wat II, 1942.  A court decision makes women subject to the draft and eligible for service.  The unproven American army is going up against the greatest fighting force ever assembled, the armed forces of Nazi Germany.
Three girls sign up to fight.  Rio Richlin, Frangie Marr, and Rainy Schulterman are average girls with dreams and aspirations, at the start of their lives, at the start of their loves.  Each has her own reasons for volunteering: Rio fights to honor her sister; Frangie needs money for her family; Rainy wants to kill Germans.  For the first time they leave behind their homes and families--to go to war. 
These three daring young women will play their parts in teh war to defeat evil and asave the human race.  As the fate of the world hangs in the balance, they will discover the roles that define them on the front lines.  They will fight the greatest war the world has ever known. 

Book Trailer:
Read-a-Likes:

Girl in the Blue Coat, by Monica Hesse

The Book Thief, by Markus Zusak

Code Name Verity, by Elizabeth Wein

Leviathan, by Scott Westerfeld

Author website:  www.michaelgrantbooks.co.uk 
Offical book website including maps, videos, and photos:  frontlinesbook.com
Video of the author discussing Rio Richlin's genesis:
The Ocean State Libraries catalog listing contains a book profile, professional reviews, reader reviews, reading level, subject headings, and awards.  Scroll down to view all the content on the page.
Classic catalog version and Encore catalog version