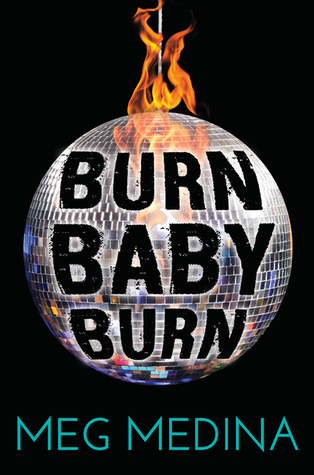 Burn Baby Burn, by Meg Medina

Publication Information:  Somerville, MA:  Candelwick Press, 2016
Summary: When violence runs rampant throughtout New York, a teenage girl faces danger within her own home in Meg Medina's riveting coming-of-age novel.
Nora Lopwez is seventeen during the infamous New York summer of 1977, when the city is besieged by arson, a massive blackout, and a serial killer named Son of Sam who shoots young women on the streets.  Nora's family life isn't going well either, her bullying brother, Hector, is growing more threatening by the day, her mother is helpless and falling behind on the rent, and her father calls only on holidays.  All Nora wants is to turn eighteen and be on her own.  And while there is a cute new guy who started working with her at the deli, is dating even worth the risk when the killer likes picking off couples who stay out too late?
Award-winning author Meg Medina transports us to a time when New York seemed balanced on a knife-edge, with tempers and temperatures running high, to share the story of a young woman who discovers that the greatest dangers are often closer than we like to admit -- and the hardest to accept.
Book Trailer:
Read-a-Likes:
American Girls, by Allison Ummiger

My Sister Rosa, by Justine Larbalestier

Learning Not to Drown, by Anna Shinoda

Links of Interest:
Author website:  megmedina.com

Educator Guide:  HERE

The Ocean State Libraries catalog listing contains a book profile, professional reviews, reader reviews, reading level, subject headings, and awards.  Scroll down to view all the content on the page. 
Classic catalog version and Encore catalog version